These are just a few of the military operations happening across the North American region for the Gregorian month of April, 2018.
Canada:
USS Pearl Harbor arrived in Victoria, British Columbia 12APR2018.  Commander Ben Miller stated "This visit helps to demonstrate the continuing commitment the U.S. has to our long-standing and important relationship with Canada……   the port visit gives the crew of Pearl Harbor a chance for some rest and relaxation…"  That taxpayer funded R&R includes visits to the Craigdarroch Castle, British Columbia Parliament buildings, Butchart Gardens, Fisherman's Warf Park and the Fisgard Lighthouse.
El Salvador: Video previewing operation Beyond the Horizon scheduled for May, in which lots of U.S. tax dollars will be spent on El Salvador. The video shows U.S. taxpayer funded activities from previous Beyond the Horizon operations:
Guatemala: U.S. Naval Forces Southern Command/U.S. 4th Fleet conducting operation Continuing Promise 2018, spending your tax dollars not just on military training engagements, but on medical, dental, and veterinary help for silly-vilians.
Taxpayer funded USAF delivered a fire truck and ambulance to Tecpan, Guatemala, 20APR2018, as part of the evil USAID (United States Agency for International Development) Denton Program.  Supposedly the vehicles were paid for by religious organization Mission of Love Foundation.  As of March 2018, 'christian' Mission of Love Foundation, via USAID's taxpayer funded Denton Program, has conducted 60 'missions' to Guatemala: "We work on five continents with an all-volunteer force….. With a group of volunteers, the Denton Program and the Air Force together are making this possible for those in need. I couldn't do it alone. I am just a facilitator."-Kathleen Price, Mission of Love Foundation
Haiti:
On 07APR2018, the U.S. Coast Guard captured and repatriated about 50 migrants from Haiti.
Mexico: Leaders of the Secretaría de la Defensa Nacional met with U.S. Army North (Fifth Army) as well as Arizona, New Mexico and Texas National Guards, along with U.S. Customs and Border Patrol, in Tucson, Arizona: "We not only have the huge responsibility as customs and border protection, we need this to be a team effort with U.S. Army North, Deptartment of Defense, Mexico and other agencies. By coming together we are able to exponentially provide security and safety for citizens in Mexico and the U.S."-Juventino F. Pacheco, Assistant Chief Patrol Agent, Foreign Operations Branch, Tucson Sector Border Patrol  (THE WALL IS GOING UP, U.S. TAXPAYERS ARE FUNDING IT!)
United States:
So much for ObamaCare, operation Arctic Care involves U.S. regular forces, Alaska National Guard and British empire Canadian military forces providing taxpayer funded medical help to 'underserved regions' of Alaska.
Video of USAF C-17 leaving Alaska after delivering taxpayer funded medical supplies:
 Arizona Air National Guard Airmen listen to border deployment briefing, 09APR2018.
Your tax dollars at work as Sesame Street videographers visit Channel Islands Air National Guard station in California, 06APR2018.
Alabama Army National Guard fire mortar rounds at Eglin Air Force Base, Florida, 07APR2018.
Florida National Guard DISCOVERS MAJOR CAUSE of slow deployment of disaster relief supplies, NEW PREPS FOR HURRICANES!
U.S. Coast Guard delivers the Flame of Hope for Hawaiian Special Olympics, 18APR2018.
U.S. Army off-loads food for climate change victims in Kauai, 17APR2018.
The U.S. Coast Guard assisted local emergency responders in Hanalei Bay area of Kauai, Hawaii, after a thunderstorm caused landslides and flooding.  Video of flooding: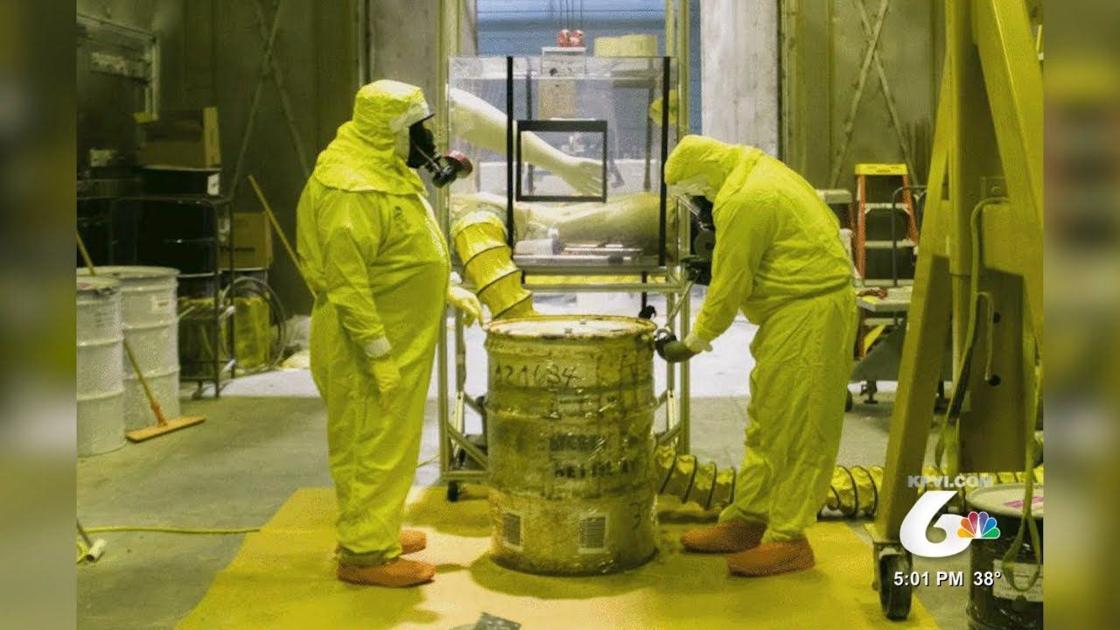 This is not a CBRN drill, on 11APR2018 several nuke waste drums exploded at the U.S. Navy's Idaho National Laboratory. Initially it was reported as one drum, but a week later it was revealed that at least three more drums exploded.  The nuke waste is said to have come to Idaho from Rocky Flats Plant in  Colorado, in the 1960s.  Contractor Fluor Idaho stated that the decades old waste had just been re-packed into 55-gallon drums the morning of the explosions. The latest nuke waste explosions are significant because the explosions at New Mexico's WIPP (in 2014) might have involved nuke waste packaged at the Idaho National Laboratory.
IDAHO MILITIA PREPS FIREFIGHTERS FOR COMING NATURAL DISASTERS!
GREAT RENEGER: IDAHO & NORTH CAROLINA MILITIAS DEPLOY TO AFGHANISTAN, AGAIN!
Video of Vibrant Response zombie apocalypse preps in Indiana, note the pathetic Fix it Jesus sign at the end:
Maryland Army National Guard takes part in Vibrant Response, CBRN exercise in Indiana, 12APR2018.
Video of Guardian Response 2018, Indiana:
U.S. Coast Guard responds to toxic dielectric oil leak in Mystic River, Massachusetts, 14APR2018.
Members of Michigan National Guard and U.S. Virgin Islands National Guard train at Camp McCain, Mississippi, 06APR2018.
Toys used at Camp McCain, Mississippi, for yearly hurricane disaster training.
Water sampling at Battle Creek Air National Guard Base, Michigan, due to possible contamination from Perfluorooctanoic Acid (PFOA), Perfluorooctane Sulfanate (PFOS), and two compounds found in aqueous film forming foam (AFFF): "We want to test as a precaution, in order to determine if there is need for any further environmental investigation."-Melanie Brown, Michigan Department of Environmental Quality
U.S. Coast Guard underwater drone (ROV) examined damage caused to American Transmission Company hi-voltage cables in the Straits of Mackinac, Michigan.  Local news media reported two cables were cut when the anchor of a boat got caught in them.  Electric underwater cables use toxic oil for insulation, the damage caused about 6-hundred gallons of dielectric oil to leak into The Great Lakes.
New Mexico Army National Guard coordinate with U.S. Border Patrol at El Paso Sector Intelligence Operations Center, 07APR2018.
Official New Mexico Air National Guard Red Horse & SOW FTX video:
580 personnel from New York and New Jersey National Guard units took part in FEMA Region-2 CBRN (Chemical, Biological, Radiological, Nuclear) training in New York and Connecticut, during the second weekend of April.
Active shooter training at the New York State Preparedness Center, in Oriskany, 18APR2018.
Ravenna Army Ammunition Plant (RVAAP) Environmental Restoration team recognized for helping to turn a former ammo factory into the new Camp Ravenna Joint Military Training Center in Ohio.
Video, USAF A-10C Thunderbolt-2 pulls 540 over Ohio River during Thunder over Louisville, Kentucky, 21APR2018:
Video report, Oklahoma National Guard responds to record level wildfires:
Army National Guard is being used as a guinea pig for the new Human Resources, Pay and Talent Management software system, to be phased in over the next 360 days.  The Pennsylvania Army National Guard will be the first to try it out: "We're going to be the first organization in the DoD [Department of Defense],  maybe the Federal government, that will have HR on their mobile device. This is going to be the largest HR system in the world … the largest roll-out of Oracle systems for all Soldiers."-Colonel Darby McNulty, Project Manager for the Integrated Personnel and Pay System
On 21APR2018, the Pennsylvania Army National Guard conducted Safety Stand-down 2018, apparently over growing concerns about the safety and survival of personnel: "What we do is inherently risky and we send our condolences to those personally affected by the recent tragic incidents in our military aviation community."-Chief Warrant Officer 5 Joe Sandbakken
Georgia Air National Guard's 202 Engineering Installation Squadron deployed to Puerto Rico's Muñiz Air National Guard Base to restore, protect and sustain vital communications equipment.  It's part of several planned deployments: "I was here working on a project before last year's hurricanes hit and enjoyed it, so I wanted to come back and help the community get back in order."-Staff Sergeant Wilson Gardner
Official Army Reserve video report on the never ending hurricane recovery in Puerto Rico (see also MILITARIZATION OF PUERTO RICO & VIRGIN ISLANDS), and Viper Command transition:
Militarizing police as South Carolina Army National Guard and Army Reserve Officers Training Corps conducted terrorist training with South Carolina police at the Moncks Corner Armory in Moncks Corner, South Carolina, 11APR2018: "Ten years ago, we never would have thought to do a mission like this."-Chief Warrant Officer 3 Will Sirmon, South Carolina Army National Guard's Aviation Brigade
U.S. Coast Guard captured illegally caught fish, and several Mexican fishermen, off the coast of Texas, 11APR2018.  They were illegally fishing in the U.S. Exclusive Economic Zone.
Texas National Guard scans the shores of the Rio Grande River in Starr County, Texas, 10APR2018.
National Guard personnel muster to patrol the border at Del Rio Sector, Texas, as part of Operation Guardian Support, 20APR2018.
U.S. Coast Guard responds to oil pipeline fire near Port O'Connor, Texas, 17APR2018:
WEST VIRGINIA National Guard OPERATION CARROT? STATE SPONSORED SURVIVAL-ISM!
Alpine Guard 2018 WYOMING NATIONAL GUARD RESPONDS TO 'CHEMICAL ATTACK' IN COLORADO?
MAKING ZOMBIES: USAF SECRET SLEEP DEPRIVATION EXPERIMENT REVEALED!
AMERICA SPREAD THIN: WEST PACIFIC, MARCH 2018
Guardian Response 2017: NUKE ATTACK HITS UNITED STATES, NEARLY 6,000 U.S. PERSONNEL MOBILIZED!