21 OCT 2017 (04:29 UTC-07 Tango 06)  29 Mehr 1396/30 Muharram 1439/02 Geng-Xu (9th month) 4715
"Given that the amount of virus needed to initiate infection of exposed ferrets via respiratory droplets is small, these findings suggest that the HPAI H7N9 virus requires only a limited amount of virus to cause lethal infection…."-Yoshihiro Kawaoka,  University of Tokyo and University of Wisconsin-Madison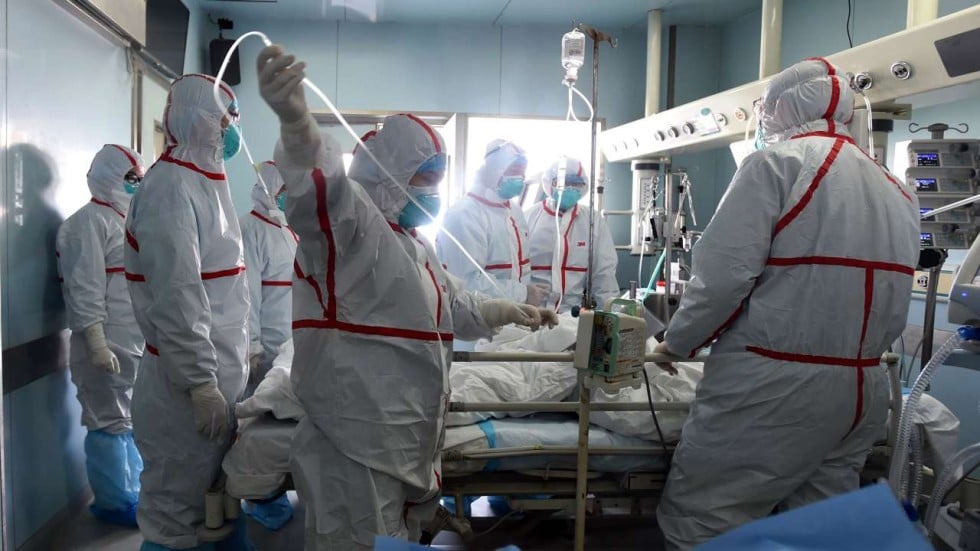 Scientists in China, Japan and United States are warning about a new version of H7N9 'bird' flu.  It's deadly, potentially spread by humans, and doesn't affect birds!
Studies show the new H7N9 has about a 90% kill rate in laboratory animals.  Researchers at the University of Wisconsin called it "extremely unusual".  Researchers at University of Minnesota added "The work is very concerning in terms of the implications for what H7N9 might do in the days ahead in terms of human infection."  Timothy Uyeki, with the U.S. Centers for Disease Control and Prevention (CDC), said the potential death rate from the new H7N9 is already "alarmingly high".
Read the study: A Highly Pathogenic Avian H7N9 Influenza Virus Isolated from A Human Is Lethal in Some Ferrets Infected via Respiratory Droplets
China has been dealing with H7N9 outbreaks in humans since 2013.  So far this year, China has reported dozens of people dying every month from H7N9!   The current vaccine is based on the 2013 version of H7N9.  There is no viable vaccine for the new deadlier H7N9, in desperation China's government recently ordered testing of four new H7N9 vaccines.
February 2017: Mutation of H7N9 bird flu strain found in Guangdong patients
2014 epidemic:  H7N9 ALARMING HEALTH OFFICIALS! U.S. STOCKPILES UNPROVEN H7N9 VACCINE! H7N9 ENGINEERED TO KILL CHINESE ONLY?
H7N9 MEDICAL MARTIAL LAW! U.S. CDC ISSUES DIRECTIVE!
DEADLY H7N9 MAKES A COMEBACK! ALLIED WITH H9N2!
2013 emergence: H7N9 EMERGENCIES DECLARED, EVOLVED TO HUMAN TO HUMAN FLU?
EASY TO CATCH, OLD MEN ARE THE TARGETS!
MORE BLOOD TESTS PROVE IT'S NOT THE CHICKENS!
HEALTH OFFICIALS RELUCTANTLY ADMITTING IT'S HUMAN TO HUMAN!
YOUR CHICKEN DINNER TO COST MORE?
YOUR IMMUNE SYSTEM DOES NOT RESPOND!
MORE EVIDENCE OF TAMIFLU RESISTANCE!
TAIWAN WARNS OF HUMAN TO HUMAN CASES!
NIAID WARNS OF HUMAN TO HUMAN CASES!
THE MORE YOU'RE EXPOSED, THE GREATER YOUR CHANCES OF GETTING SICK!
MORE EVIDENCE IT'S NOT COMING FROM CHICKENS!
FIRST CASE OUTSIDE CHINA! JAPAN PREPS TO QUARANTINE AIRPORTS!
MORE THAN 100 CASES, 20 DEATHS! MINNESOTA ON ALERT!
UN NOW SAYS IT'S POSSIBLE FOR HUMAN TO HUMAN CASES!
ALL WILD POULTRY BUSINESSES SHUT DOWN!
HALF A MILLION PEOPLE EXPOSED! SCOTT WALKER NOT WORRIED!
CHINA IDENTIFIES HUMAN CARRIER, A FOUR YEARS OLD BOY!
POSSIBLE FIRST HUMAN TO HUMAN CASES!
HUMAN CARRIERS SPREADING THE DISEASE?
NEW TESTING WILL INCREASE REPORTED CASES!
CHINA DISTRIBUTES NEW TEST FOR RAPIDLY MUTATING VIRUS!
SO FAR, ONE CHILD ONLY PERSON TO RECOVER!
CHINESE AND JAPANESE HAVE EVIDENCE OF RAPID MUTATIONS, ALMOST AIDS LIKE! RESISTANCE IS FUTILE?
STILL NO CONFIRMED CONNECTION TO BIRDS!
CHINA JOINS THAILAND IN ACCUSING THE UNITED STATES OF SPREADING THE NEW DISEASE!
COMPETITION TO MAKE A NEW VACCINE THREATENS COOPERATION!
THAILAND SAYS H7N9 CAME FROM U.S.!
MILLIONS BEING SPENT ON PREVENTION!
THE SOONER YOU'RE DIAGNOSED, THE BETTER YOUR CHANCES OF RECOVERY!
MOST FARMERS UNAWARE OF INFECTED POULTRY!
CHICKENS TEST POSITIVE IN SHANGHAI!
JAPAN SCRAMBLES TO CREATE NEW VACCINE!
A NEW UNEXPLAINED PNEUMONIA DEATH!
JAPAN SAYS THIS H7N9 IS NOT YOUR TYPICAL BIRD FLU!  POULTRY CULLING WON'T WORK!
NOW A CLASS 5 DISEASE, INFLUENZA COMMAND CENTER ESTABLISHED!
ATTACKING ALL AGE GROUPS! BLAME PIGEONS?
NEW STRAIN IS COMBINATION OF 3 OLD STRAINS! RESISTANT TO TAMIFLU!
CHINA IN OFFICIAL "CRISIS" MODE! 
HONG KONG SAYS WE'RE TOO LATE TO STOP PANDEMIC!
INTERNATIONAL HEALTH OFFICIALS SAY IT CAN NOT BE DETECTED!
HONG KONG SAYS NEW FLU CAN'T BE DETECTED IN EARLY STAGES!
GETTING PNEUMONIA FOR NO APPARENT REASON MIGHT BE A SIGN OF H7N9!
VIETNAM BANS POULTRY IMPORTS FROM CHINA!
U.S. CDC RUSHING TO CREATE VACCINE!
JAPANESE RESEARCHERS SAY IT CAN JUMP HUMAN TO HUMAN
NEW KILLER H7N9! GOVERNMENT COVER UP! 
OPERATION JUPITER: NIGERIAN MILITARY YELLOW FEVER VACCINE CAMPAIGN!