16MAR2018  (03:11 UTC-07 Tango 06)  25 Esfand 1396/28 Jumada t-Tania 1439/29 Yi-Mao 4716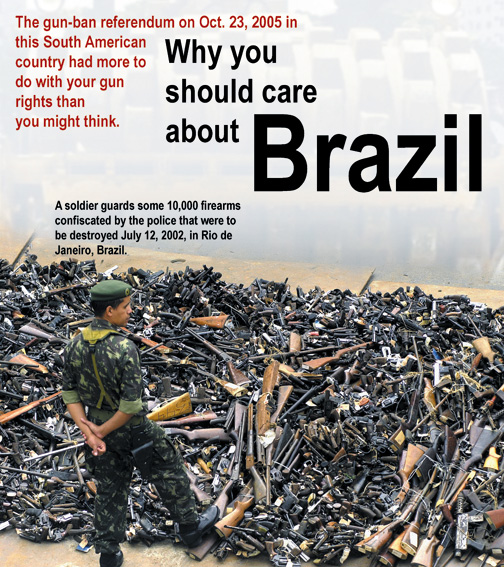 In strict gun control Brazil gun violence is escalating and it looks like the cops are behind it.
Here's a little bit of 'real' mainstream news reports from the past year:
Rio de Janeiro councilwoman, critic of police killings, shot dead, Reuters
British brothers shot during attempted mugging in Brazilian city, The Independent
Military takeover in Rio sparks fears of police brutality, Washington Post
How Brazil's 'Lord Of Guns' Armed Rio's Drug War With US Weapons, HuffPost
"Security cameras captured the horrific moment a gunfight broke out in an elevator in Brazil on New Year's Eve, leaving an off-duty cop injured. The commotion allegedly occurred between three Sao Paulo plain clothes municipal police officers and a tourist…"-Daily Mail
Army Stonewalls on Rio Killings, Human Rights Watch
US Diplomat Shot in Foot Outside Rio de Janeiro, Voice of America
14 people killed, six children wounded in Fortaleza, after gunmen storm party, The Independent
Brazil Police Accused of Killing 7 During Raid on Favela Party, teleSUR 
"An off-duty police officer allegedly gunned down a 21-year-old university student at a bar in Rio de Janeiro, Brazil after she refused to turn off a song he disliked."-Daily Mail
"A man has been shot dead in Brazil after mowing down six people in his car and then trying to attack police who surrounded him with a knife as he got out of his vehicle."-Daily Mail
Brazilian YouTuber Left Brain Dead After Being Shot In The Head, LADbible   Military Police said "Neither of the two suspects has a criminal history. The firearm was legally registered." 
Brazil police shoot dead Spanish tourist in Rio de Janeiro favela, The Guardian
Brazilian Cops Are Killing More People Than Ever., HuffPost
Brazil police officer shoots armed robbers to death while holding baby,CBS News
Brazilian police caught on video killing car-thief AND his hostage then staging the crime-scene to make it look like HE fired first!, Daily Mail
Brazil police accused of shooting at anti-government protesters,The Guardian
Violence In Brazil Escalates, Army Is Deployed To Neighborhoods, NPR
Student kills 2, wounds 4 in Brazil school shooting, Fox News
Teenagers unknowingly live-stream their own death by police ambush! The Independent
Killings by Brazilian police branded a human rights crisis, The Guardian
UN Review Must Not Ignore Brazil's Exorbitant Number of Police,
teleSUR
Death toll mounts in Rio de Janeiro as police lose control of the city, The Conversation AU
"Nearly all deaths caused by police in Brazil are registered as 'self-defence', and 99.2% of cases dismissed without charge."– The Guardian
Spike in killings by Rio police as country faces UN review, Amnesty International
Brazilian cops pose for pics with alleged gang leader, they look like great friends,   The Independent
"In Brazil, all firearms are required to be registered with the minimum age for gun ownership being 25. It is generally illegal to carry a gun outside a residence, and a special permit granting the right to do so is granted to certain groups, such as law enforcement officers. To legally own a gun, an owner must hold a gun license, which costs BRL R$1000, and pay a fee every three years to register the gun, currently at BRL R$85. Registration can be done online or in person with the Federal Police."-Wikipedia
2017: BRAZILIAN SECURITY GUARD BURNS TO DEATH SCHOOL CHILDREN!
2013: U.S. MEDIA BULLSHIT! REPORT BRAZIL GUN VIOLENCE DOWN AFTER ANTI-GUN LAW PASSED! SAME DAY AS CCTV VIDEO RELEASED OF THREE UNARMED TEENAGERS GETTING BLASTED BY TWO MEN WITH GUNS, AND COPS JUST SAT AND WATCHED! GUN CONTROL DID NOT PREVENT SCHOOL SHOOTING!