16 OCT 2017 (04:09 UTC-07 Tango 06) 24 Mehr 1396/25 Muharram 1439/27 Geng-Xu 4715
"MASSOB has condemned the forceful immunization and administration of unknown drugs to Biafran children by medical personnel of Nigerian Army, which led to the unconfirmed death of about three children in Ozubulu, Ekwusigo Local Government Area, Anambra State. "We see this camouflaged medical humanitarian service of Nigerian Army as another dimensional step to cause annihilation of the people of Biafra. This  annihilation exercise can be described as Operation Python Death…..
….our intelligence agency have confirmed that the source of the immunization drugs were brought from Iran without the due process of clearing of imported goods, our intelligence report also proved that NAFDAC was sidelined before administration of the killer poison. The poisonous substances administered in Ozubulu are out rightly different from the medical drugs administered in Nkwegwu, Isukwuato and Mbaise. This is a biological warfare waged against our people by Nigeria state."-Movement for the Actualization of the Sovereign State of Biafra
In the predominantly Christian African country of Biafra, U.S. backed soldiers from oil rich Nigeria tried to force Biafran children to be vaccinated against so-called Monkey Pox.  It's apparently in response to an outbreak of MonkeyPox in Nigeria, and calls into question the sovereignty of other countries who don't want to take part in mass vaccination programs.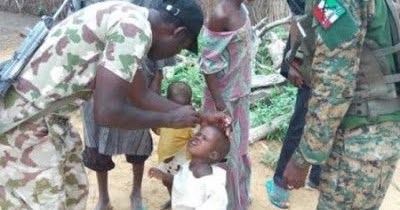 Local news media reported that Nigerian troops invaded Biafraland and Anambra State with the goal to "inject their children to death".   In response families pulled their kids from school and disappeared, leaving almost nobody to be vaccinated.
Indigenous People of Biafra leaders announced that the frustrated soldiers had left, but they "would raise the alarm immediately" if they returned.  
USAfriCom (U.S. Africa Command) recently discussed with the Nigerian military plans for an African Land Forces Summit in 2018.
OPERATION JUPITER: JAMMING ALL YOUR CHILD'S VACCINES INTO ONE SHOT!
2016: NIGERIA ADMITS USAID inspired SHADOW GOVERNMENT, TAXPAYERS SCREWED OVER BY $12-MILLION MONTHLY!
"We are going to have to stop being the policemen of the world."-Donald Trump, August 2015 interview with Hugh Hewitt
2013: Obama BEHIND GENOCIDE AGAINST NIGERIAN MUSLIMS?