Incomplete list of announced United States food supply shutdowns for the month of November, 2017: Many food suppliers/distributors are consolidating operations and killing jobs due to the collapsing grocery store and restaurant industries, as well as rising costs of food production, spread of disease and extreme weather.
A new study says rain spreads diseases to crops: "While the importance of rain for providing water and nutrients to plant life is well-understood, it also contributes to the dispersal of microscopic pathogen particles."-American Physical Society's Division of Fluid Dynamics
Alabama:  Piggly Wiggly shutting down its grocery store in Cullman, about 30 jobs gone by Xmas due to the undisclosed "decision of the owners."
Arizona: In Scottsdale, after only six months El Panzon y Frida shutdown without warning or explanation, an unnamed employee revealed the shutdown plan to local news media!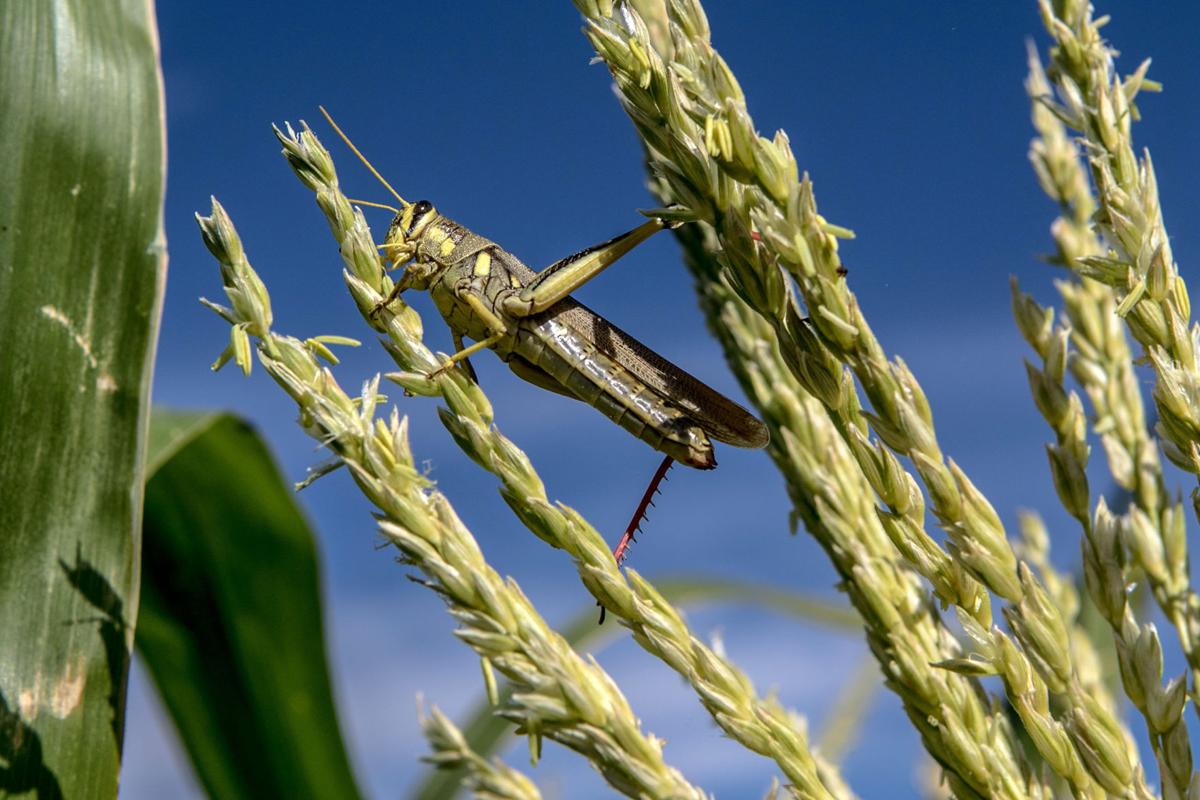 Apparently The Grand Canyon state is experiencing a locust infestation: "I've never seen anything like this. At first, there were a few. And then you realize day after day there's more of them."-Dianna Isaacson, who says her plants looks like a bunch of skeletons
California:In Sacramento, after 50 years bar Distillery was sold-off and suddenly shutdown.  Outback Steakhouse suddenly shutdown its restaurant in Goleta, blaming the landlord for jacking up the rent (this location was not on the February Outback shutdown list).  Cal Pacific Specialty Foods suddenly shutdown its operations in Moss Landing, 323 jobs gone right before Thanksgiving!  Dole issued a shutdown WARN for its operations in Watsonville, 140 jobs gone by mid-January 2018!  Tyson laying off 70 people in San Diego, in January 2018.  Specialty Commodities (owned by food giant Archer Daniels Midland) issued a shutdown WARN for its Stockton location, 63 jobs gone in January 2018.  In Paramount, Latitude 45 Catering shutting down, 33 jobs gone right after Xmas.  Fruit tree grower L.E. Cooke issued a shutdown WARN for its Visalia ops, 278 jobs gone by mid-January 2018!  Restaurant operator Saddle Ranch Universal issued a mass layoff WARN, 124 people in Universal City jobless by January 2018!
Colorado:  After 20 years internet based Door to Door Organics food delivery service shutdown without warning, vaguely blaming "recent events in our industry".
Florida:In Orlando, expensive 'farm-to-table' Nova Scratch Kitchen suddenly shutdown due to lack of sales.  Hurricane Irma reduced the citrus crop by as much as 70%, which is significant when you realize that The Sunshine State can supply up to 49% of the citrus for the entire United States!
Idaho: After 28 years in Chubbuck, it was revealed that restaurant Taquiera La Costa suddenly shutdown because the immigrant owner failed to become a legal resident/citizen and had to move back to Mexico.  He swears he'll be back when his 'paperwork' is approved.  In Pocatello, after eight years locally run restaurant Efresh-The Gathering Place suddenly shutdown, the owner blaming the sudden escalation in corporate big-box restaurants: "There were so many restaurants that came into town really quickly and people decided to go there and just being a local little business, we felt that hit."-Emily Fisher, interviewed by KIFI
Illinois:  In Chicago, after 11 years, and recently reporting $19-million USD in sales, popular steak joint Primehouse shutting down in December, apparently due to the landlord James Hotel.  After 52 years Chicago Brauhaus shutting down in December.  In Bellevue, bbq joint Righteous Pig shutdown, the Facebook post simply said "sorry folks the end has come for the pig."  In Champaign, after two years Brixx Wood Fired Pizza shutting down, 30 jobs gone in December because "We don't have the volume of customers that we needed to stay viable."   Farmers blaming stunted corn and soybean crops on the Enbridge Southern Access Extension oil pipeline. 
Indiana:  Police owned Cops & Doughnuts suddenly shutdown their one year old South Bend location, the day before Thanksgiving, an unnamed manager blamed lack of sales. In Hebron, after more than 50 years Patz's Market finally shutdown following years of online reviews that said it looked deserted.  Aunt Millie's Bakeries announced it will shutdown its Fort Wayne bakery, 91 jobs gone between now and April 2018 due to "excess capacity and costs" (which is code for too much inventory and not enough sales).   Also in Fort Wayne, after only one year restaurant The Golden shutdown.  In Lafayette, after 50 years Pizza King in the Jefferson Square Shopping Center shutdown, the owner says despite being busy after school hours "… it's a lot cheaper just to shut it down."
Iowa:  In Sioux City, after 99 years Coney Island shutting down by the end of the year due to a failed attempt to sell the popular hot dog joint.  After 75 years The Supervisors Club (supposedly an elite club for John Deere employees) shutting down due to lack of members (probably because of all the Deere layoffs).  ICON Ag & Turf issued a layoff WARN, 83 people in Ireton jobless by January 2018.  Mike Naig, state Deputy Secretary of Agriculture, reported "Dry weather, particularly in southern Iowa, stressed crops and did negatively impact yields in some areas."
Kansas: In Wichita, after five years Ernie Biggs Chicago Style Dueling Piano Bar shutdown.  In Topeka, after 31 years Pepe & Chela's shutdown because of "an opportunity" the owner couldn't pass up.  In Manhattan, after a recent name change The Hut shutdown: "… the volume just hasn't been what it should be."-Bud Cox, co-owner
Michigan: In Bay City, after 14 years Sweet Boutique & Chocolate Lounge shutdown, the owner credits getting an Idaho Spud Bar from the Idaho Candy Company for giving him the idea to open his shop, however, he says with the way things are "now is the time" to shutdown.  In Farmington, after 50 years Dan's Giant Submarine Sandwiches shutdown so the surviving co-owner can retire.
Minnesota: In Saint Paul, restaurant Como Dockside announced on Facebook that it is forced to shutdown the day before Thanksgiving.  Duluth Homebrew Supply announced on Facebook its sudden shutdown, they couldn't renew the lease which is $2,690 USD per month.
Montana: Flathead Lake Brewing shutting down its Woods Bay taproom and brewing facility after Xmas, so the owners can focus on their Bigfork location. In Valier, after 29 years restaurant The Lighthouse shutdown.  India hitting Montana pea farmers with a 50% import tax!
Nebraska: In Omaha, Willy Theisen's Paragon Dundee shutdown saying "We just didn't get the traction we needed."
New Jersey: In New Brunswick, after 30 years Old Bay Restaurant shutdown.  Sales were so bad that Kimchi Smoke II suddenly shutdown its five months old Montclair location, despite the lease being in effect for at least two more years!
New York: Hannaford announced it is shutting down its grocery store in Massena, 62 jobs gone by July 2018 due to lack of profits.  In Buffalo, after 68 years wholesaler Willowbrook Farms suddenly shutdown, 22 jobs gone because the family owners don't want to continue the business.   Green Planet Grocery shutting down its three years old Cicero store once most of the inventory is gone. Bohemia based Vitamin World is now dead, shutting down 124 stores and selling off the remaining 210, at least 1-thousand-478 jobs gone! In Schenectady, after 11 years Cella Bistro shutdown due to health problems with the family owners.  Terrafina issued a shutdown WARN for its snack factory in Bronx-NYC, 109 jobs gone by February 2018!  Restaurant Associates lost its contract with Barclays Executive Dining Room, 37 jobs gone right after Xmas.  In NYC, restaurant Giovanni Rana Pastificio & Cucina shutting down, 98 jobs gone by the end of February 2018.  Tops Markets issued a shutdown WARN for its grocery store in Wappingers Falls, 83 jobs gone by February 2018.  State agricultural commissioner Richard Ball warning of an Asian insect that could destroy crops: "If left unchecked, the spotted lanternfly can wreak havoc on some of our state's largest and economically important crops…..  including grapes, apples, hops and forest products."
Ohio: Fusian shutting down its restaurant near Ohio State University, as part of a plan for growing the chain.  In Hamilton, Alexander's Market & Deli shutdown because the owner doesn't have the time for it.  In Sandusky, after 42 years Kreimes Cardinal Grocery shutdown because of the family owners' health problems.  France based food service contractor Sodexo issued a WARN, 30 people in Cleveland jobless right after Xmas.
Pennsylvania: In Dallas, after 17 years Olde House Cafe shutdown after the property was sold to Misericordia University.  In West Nantmeal, Wyebrook Farm shutting down its restaurant after Xmas.  In Craley, after 86 years Barry's Country Food Market shutdown the day before Thanksgiving, the frustrated family owners told customers "times have gotten too tough."  In Washington, after more than 50 years restaurant Peppino's shutdown, the property is for sale.
South Dakota: Corn, soybeans and grain sorghum harvests are expected to go down by 5%.
Tennessee: Spaghetti Warehouse suddenly shutdown its restaurant in Memphis.  It's still going on, tobacco crops failing and again state inspectors blame contractors for improper herbicide spraying.  One tobacco farmer says he lost more than $400-thousand USD as a result. 
Texas: Irving based Dairy Queen franchise owner Vasari chapter 11 bankrupt busted and shutting down at least 23 of its 70 Dairy Queens in New Mexico, Texas and Oklahoma, blaming oil industry layoffs and destruction caused by hurricanes.  Grocery giant Kroger suddenly canceled its contract with a  warehouse operator in Keller, 690 jobs gone a week after Thanksgiving! Kroger is now contracting with Penske Logistics for its warehouse operations.  In Dallas, restaurant Sambuca shutting down its McKinney Avenue location because for years the landlord refused to fix ongoing problems with the building, even after being sued.  In Longview, after four years Bootlegger Grill shutdown without warning after failed attempt to sell it: "The problem is there is an oversaturation of restaurants in the Longview market. Nobody wanted to purchase a restaurant."-Chris Cline, owner
Texas fruit growers are worried about this year's warmer than average winter forecast: "The trees are not able to set leaf buds or flower buds normally and that can lead to problems. It can also lead to little or no fruit sap."– Steve Huebner, peach and plum famer
Virginia: In Altavista, after many decades Vista Food Market shutting down, 23 jobs gone in December.  Blaming the "natural business cycle" Not Your Average Joe's shutdown its 11 years old Lansdowne restaurant. Farm Fresh shutting down its store on Arthur Way, in Newport News, right after Xmas due to lack of profits.  Firefighting themed Halligan Bar & Grill shutdown two of three locations without warning, one had been open for only 90 days, and the other had already been closed officially for remodeling but not anymore!  For some reason the co-owners suddenly decided to retire!
Washington: Seattle based Amazon shutting down its Amazon Fresh grocery service in at least nine U.S. states!
West Virginia: FoodFair shutting down its 13 years old store in Huntington, 30 jobs gone because "Unfortunately, the market conditions have deteriorated…"
Wisconsin: In Milwaukee, after more than 20 years restaurant La Fuente shutdown without warning.  British empire Canada based Saputo shutting down its cheese factory in Fond du Lac, 126 jobs gone by May 2018!  University of Wisconsin says carbon emissions actually increase when crops are grown for ethanol production.  Colder than average temperatures are preventing crops from necessary drying, some farmers reporting that the ground is already freezing which could prevent them from harvesting.
WARN=Worker Adjustment & Retraining Notification
U.S. Food Crisis, October 2017: "SHOCKINGLY CLOSED UNTIL FURTHER NOTICE"