23 SEP 2017 (13:06 UTC-07 Tango 06) 01 Mehr 1396/02 Muharram 1439/04 Ji-Yu 4715
An investigation into the mysterious fire, that claimed the life of the first female M1A1 Abrams tanker in U.S. history, concluded it was the result of an explosion.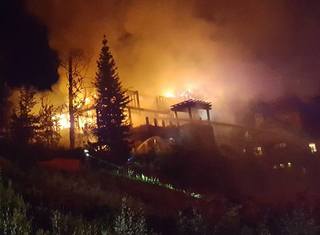 The fire happened on 30 JUN 2017, at the Tamarack Resort in Idaho.  Four people were killed; Master Sergeant Erin Smith and her daughter, another Idaho Guardsmen James Harper and his son.  Smith's husband survived.
The investigators say the fireplace in the resort cabin was at one time fueled by propane.  It was converted to wood fuel but for some reason the propane line was left in place, and apparently still flowing the gas.  However, they're calling it an accident.  No comment was made concerning who converted the fireplace from propane to wood fuel.
1ST EVER U.S. PANZERFRÄULEIN KILLED BY MYSTERY FIRE!