07 December 2016 (03:44 UTC-07 Tango 01) 17 Azar 1395/07 Rabi 'al-Awwal 1438/09 Geng Zi 4714
The deaths of expensive Black Swans at a Japanese zoo has revealed a bird flu epidemic sweeping the island nation.
The Higashiyama Zoo in Nagoya confirmed that one Black Swan died from bird flu, and two others died but tested negative.  More testing is being done.  Zoo employees are searching the surrounding area for dead wild birds that might be infected, so far none have been found.   Avian exhibits where people come in direct contact with birds have been shutdown. Japanese news media has revealed that since November 550-thousand poultry at just one farm (in Niigata Prefecture) have been culled (killed) in an attempt to stop  an epidemic of bird flu!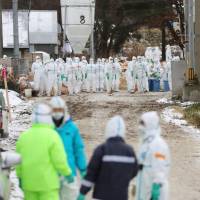 Just last week a second duck farm in Amori Prefecture tested positive for bird flu.  The prefectural government ordered the culling of more than 4-thousand ducks!
In the city of Yokohama,  administrators of the four city run zoos are forcing zoo patrons to disinfect their shoes before entering the bird refuges.  Some avian exhibits have been shutdown.
The irony is that the upcoming new year in Japan is being called the Year of the Rooster.
GLOBAL FOOD CRISIS: WORLD BANK BEHIND BIRD FLU SLAUGHTER?