Incomplete list of job loss announcements and shutdowns.
24/7 compiled the top nine retailers shutting down a minimum of 1-hundred stores in the U.S.:  Wolverine World Wide; 1-hundred. Chico's; 120. Sports Authority; 140. Finnish Line; 150. American Eagle; 150. Walmart; 154. Walgreens; 2-hundred. Children's Place; 2-hundred. Office Depot; 4-hundred.
Alabama: The saga of the sudden mass FMP owned Ovation Brands/Buffet LLC restaurant shutdowns continues as at least four Ryan's were suddenly shutdown in as many cities.
California: In San Jose, after 30 years the Silicon Valley Ballet shutting down due to a crash in donation funding.  In the Santa Cruz Mountains, God is powerless to stop the shutdown of 'his' Christian campsite in San Mateo County Parks Department's Memorial Park.  It's due to water supply issues.  The state water regulations concerning the campsite limits how many people can use the site at one time, apparently God's minions have been overpopulating the camp.  God's minions tried to build their own water well, but failed (remember, there is a drought): "We have our last group in here now and are closing down Thursday and I'm laying off staff."-Reverend Larry Rice
Connecticut: In Wallingford, after six years Panacea a Boutique shutting down by the end of the month.
Florida: In Tallahassee, Gold's Gym shutting down their 26 years old Apalachee Parkway Center operation next week.  The operators admitted that due to competition and increased costs they should've shutdown three years ago: "It was a good club for 10 years. And then you could start to feel it through the years that it became harder and harder to make it work."-Doug Dickinson
Idaho: In Boise, public school officials are finally outing the so-called friend of education J.A. and Kathryn Albertson Family Foundation for what it really is, a covert effort to Dumb Down Idahoans: "Why would someone want to undermine public education in Idaho? The motive is quite clear. At a recent Downtown Rotary Club meeting, the executive director of the Albertson Foundation stated that the goal of the Foundation is to increase charter school seats by 20,000 in the next few years. That will only happen if Idahoans lose faith in their public schools…..   …..Let's be clear; this campaign promotes an agenda designed to undermine public schools. It is highly inaccurate. It offers no real solutions to increasing post-secondary readiness. It is a disservice to the work public school teachers, parents, and students do every day."-Boise School District
Also in Boise,  Blind Bat News readers report that the Maverik convenience store (#175 on 1909 West Boise Avenue and Protest Road) has suddenly shutdown, the fuel pumps have already been removed.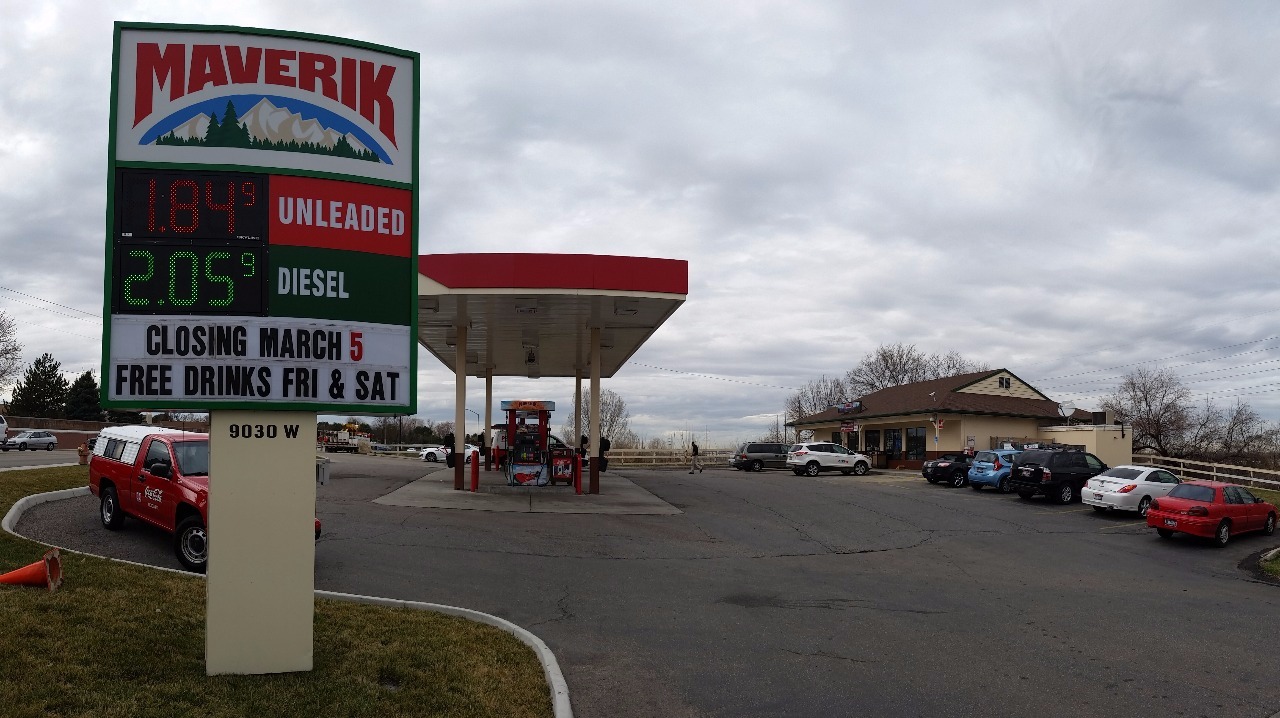 As well as Boise Maverick store #206 (Franklin and Maple Grove)!  
And the Garden City Maverick store #4 on Chinden Boulevard!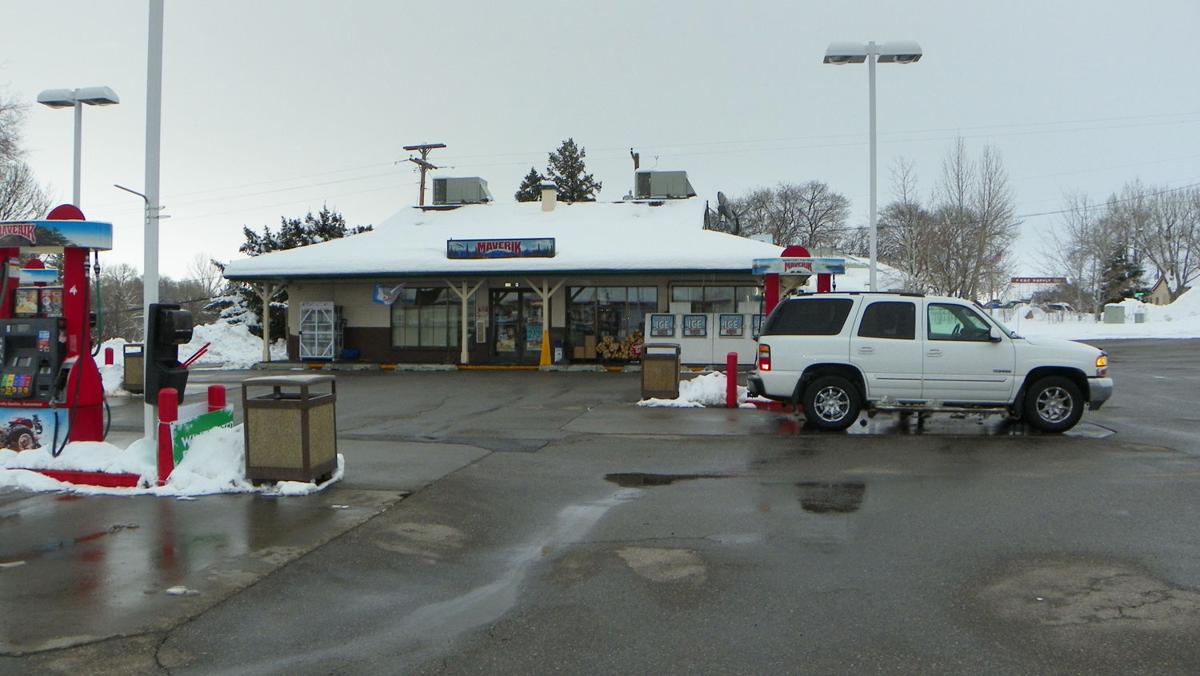 On the other side of the state, the Rexburg Maverik #169 shutdown by giving away free drinks. Company administrators told EastIdahoNews that they're shutting down all older convenience stores/fuel stations that need upgrades, because under current economic conditions it's not worth it.  It's actually cheaper to build new stores, and they're hoping to sell-off the old properties to help pay for the new ones!  And while businesses continue to shutdown and public schools flounder for lack of state funding, the state Joint Finance-Appropriations Committee approved $400-thousand USD to fund the killing of wolves.  Last year 72 wolves were killed under the program, if the same amount are killed this year that'll cost taxpayers $5,555.55 per wolf!  This proves the majority of happy taxpayers are the 'bitches' of the extreme minority of farmers and ranchers!

Illinois: Kishwaukee College has decided to eliminate about 24 jobs due to Failed State 'lawmakers' failing to come through with funding.  Sycamore School District 427 approved an additional 18 layoffs, on top of the 56 approved last month.  Administrators blame it on a shortfall of $2.3-million USD, partly caused by Failed State 'lawmakers' failing to approve state funding.   More proof you brick-n-mortar store owners can't directly blame the internet/high tech for your demise; Chicago based internet coupon service Groupon conducting more job culling, this time 25 Breadcrumb employees were let go. Back in August 20 Breadcrumb employees lost their jobs.  News reports say Groupon has now cut in half the number of Breadcrumb employees it once had.  Inside sources say eventually Groupon will shutdown Breadcrumb altogether, despite adamant denials by Groupon administrators.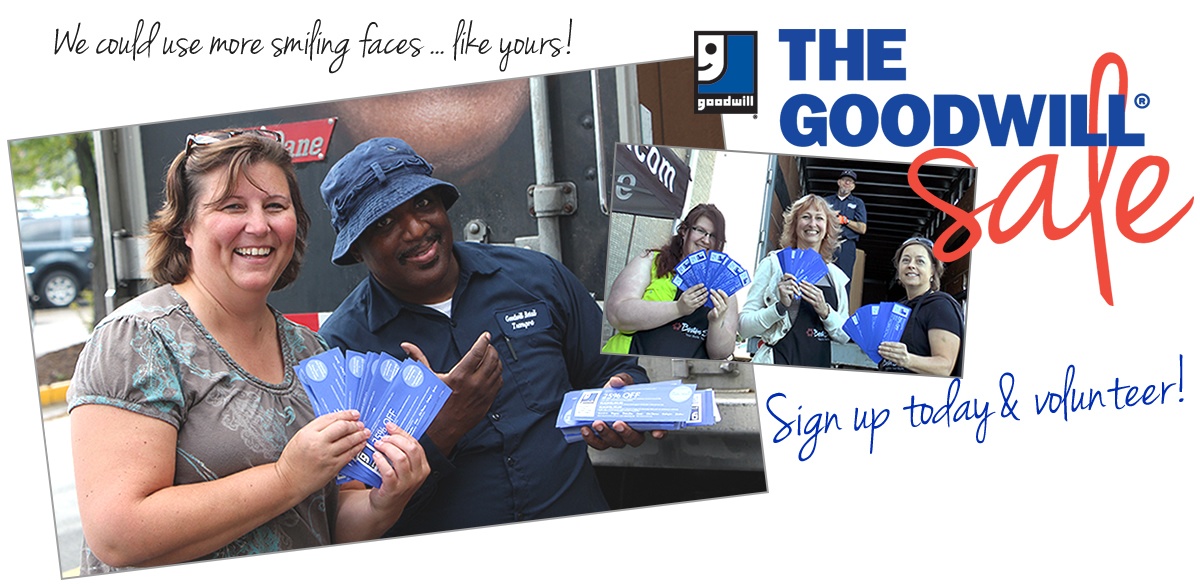 Iowa: In Cedar Rapids, so much for creating jobs with your donations; Goodwill's pre-vocational training program and sheltered workshop shutting down due to changes in federal funding.  Yep, that's right, Goodwill's job creation is mainly funded with federal taxpayer money, not your donations.
Kentucky: Convergys eliminating up to 1-hundred jobs at their Erlanger call center, due to the loss of a client.
Louisiana: Oil industry company Frank's International announced it will conduct a third round of layoffs since Spring 2015, no numbers given at this time.  Last year more than 6-hundred employees were laid off, with about 250 in Lafayette.  In Baton Rouge, Xerox State & Local Solutions issued a layoff WARN, 84 jobs lost by May due to "a change in business condition".
Maryland: The saga of the sudden mass FMP owned Ovation Brands/Buffet LLC restaurant shutdowns continues as the Hagerstown Ryan's shutdown without warning or paychecks.   Bethesda based tax-sucker Lockheed Martin is pushing 1-thousand employees to suffer "voluntary layoffs"!  Most layoffs will take place in Texas and Georgia.  Administrators say it's their only way of "staying competitive", never mind that fact they've raped taxpayers for decades over their never ending 'development' of the grossly failed F-35 project! The at least 16 years old F-35 project has cost taxpayers $400-billion USD so far!
If the Department of Defense finally decides to buy the plane it'll cost and additional $85-million per plane, and the special helmet for the pilot will cost $400-thousand each!  The F-35 has continually failed to live up to it's original billing, yet your 'elected' government continues to throw your money at it!     It should also be pointed out that Russia boasts that its current fighter aircraft can easily take out the F-35.
Massachusetts:  In Leominster, after 21 years Gear Works Cyclery shutting down by the end of the month.  It's blamed on increased costs and decreased sales.  Yet again, Chipotle restaurants are being shutdown due to employees getting sick!  This time an employee at their Billerica location got sick with norovirus.
Michigan:  The saga of the sudden mass FMP owned Ovation Brands/Buffet LLC restaurant shutdowns continues as the Battle Creek Old Country Buffet shutdown and is being auctioned off.
Minnesota: After ten years of paying for eye checkups, tutoring and giving teachers grants, non-profit Saint Paul Public Schools Foundation shutting down due to lack of corporate donations.
Missouri: In Maryland Heights, Belgium based Bellevue Pharmacy issued a layoff WARN, 150 jobs lost by May!  The parent company Fagron blames it on ObamaCare for causing crashing reimbursement rates for drugs, to the tune of a $248-million USD crash in 2015! Fagron also warns that if things don't improve revenue wise, they'll be forced to sell-off Bellevue Pharmacy.
New Jersey: In Middlesex, Impax Labs shutting down its manufacturing and packaging ops, 213 jobs lost over the next two years! Impax took over the site from CorePharma in 2014.  Impax is consolidating operations among all the competitors it took over in 2014-15.  It was also revealed that Impax is being investigated by the U.S. Attorney General for fraud.
New York: The saga of the sudden mass FMP owned Ovation Brands/Buffet LLC restaurant shutdowns continues as the Amherst Old Country Buffet was suddenly shutdown.
North Carolina:  Rite Aid shutting down their Charlotte distribution center, 270 jobs gone by the end of Spring, following the big trend this year of consolidating operations!
Ohio: Atwood Lake Resort and Golf Club shutting down: "Management informed us it is no longer economically feasible to continue operations due to the current economic state."-Bob Wirkner, Carroll County Commissioner
Pennsylvania: In Duncannon, the 'ancient' Doyle Hotel shutting down in two weeks due to lack of revenues: "With no hikers on the trail during the winter season, the timing of the tax deadlines and mortgage deadlines just hits at the wrong time of year."-Pat Kelly, co-owner
Texas: In Alvin, Dish Network eliminating 550 call center jobs!  Administrators said the lease was up and it wasn't worth it to renew.   In Houston, hospitality contractor Compass Group-Eurest issued a WARN, 55 jobs lost by the end of April.  In Cleburne, Caddo Street Grill shutting down, the owners directly blaming the Affordable Care Act: "The Obamacare mandate has effected us in ways that do not effect other local restaurants, due to the various businesses we own. This forces us into an uncompetitive business environment and it is no longer viable for us to continue in the restaurant business."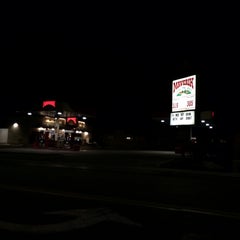 Utah: Maverik shutdown their store #227 in Salt Lake City, claiming new stores are-a-comin' for the old employees.
Virginia:  In Leesburg, Melodee Music shutting down their 40 years old store by the end of the month.  The owners are focusing on their Sterling shop.   
The saga of the sudden mass FMP owned Ovation Brands/Buffet LLC restaurant shutdowns continues as the Old Country Buffet shutdown without warning or paychecks in Alexandra. Local news reports revealed the so called "asset inventory" is a cover for mass auctioning of kitchen equipment: "Each store contains everything from kitchen equipment and smallwares to furniture and decor. To be able to bid on the entire Alexandria VA Old Country Buffet is an amazing opportunity for anyone in the restaurant business!"-Jose Paz, vulture auction manager
Washington: Georgia based underground utilities "damage prevention" service Locating Incorporated issued a shutdown WARN for their Lakewood ops, 60 jobs lost by May.
Wisconsin: River Hills West Health Center shutting down, 144 jobs lost starting in May!
Wyoming: Maverik shutdown their store #308 in Gillette. (too bad, 308 [aka 7.62mm NATO] is a good caliber)
WARN=Worker Adjustment & Retraining Notification
08 March 2016: "It hit me like a brick!"
Former employees who receive severance are not counted as unemployed!
Employees of religious non-profits might not qualify for unemployment assistance: "If the non-profit organization is a church, you may or may not be entitled to unemployment. It all depends upon state regulations for church employers. In many cases, churches are allowed to set their own rules regarding unemployment benefits, meaning the church can choose whether to offer benefits to former employees."
The U.S. Department of Labor (DoL) no longer issues mass layoff reports: "On March 1, 2013, President Obama ordered into effect the across-the- board spending cuts (commonly referred to as sequestration) required by the Balanced Budget and Emergency Deficit Control Act, as amended. Under the order, the Bureau of Labor Statistics (BLS) must cut its current budget by more than $30 million, 5 percent of the current 2013 appropriation, by September 30, 2013. In order to help achieve these savings and protect core programs, the BLS will eliminate two programs, including Mass Layoff Statistics, and all 'measuring green jobs' products. This news release is the final publication of monthly mass layoff survey data."